product description:
UT333 is a mini temperature and humidity meter. This machine uses high-precision temperature and humidity sensor module for environmental sampling, and then uses micro-processing chip for data processing. It displays the measurement result digitally by LCD; it uses the high-precision temperature and humidity that has been calibrated. The sensing module performs sampling processing, which effectively reduces product deviation and improves product measurement accuracy and accuracy. The product is more accurate and stable than the traditional temperature and humidity hygrometer. The UT333 mini thermometer and hygrometer can be widely used for grain storage and transportation. , file management, material management, agriculture, forestry, animal husbandry, health care, laboratories, teaching experiments, public and home environments, etc.
Features:
1.LCD backlit display, temperature and humidity double display at a glance
2. Maximum, minimum, data retention
3.Automatic shutdown, over-range prompt, low-pressure prompt
4.°C/°F unit switching
5. Foreign high-precision temperature and humidity sensing module makes sampling more accurate and reliable
6. Adopted Japanese TOREX LDO voltage stability control technology, the product consumes less power
7. Can withstand one meter landing impact
8. In compliance with safety regulations EN61326-1, pollution level 2
Key Function:
ON/OFF Bluetooth switch: Short press: power on or off, long press: switch to Bluetooth (power on state).
MAX/MIN: Most value key: Short press: Cycle in sequence: MAX/MING/ Exit.
°C / °F: unit conversion button: short press: °C / °F switch.
HOLD/BL: Data hold/backlight button: Short press: data hold; long press: backlight on or off.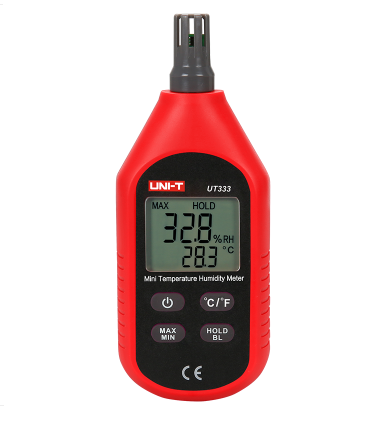 | | |
| --- | --- |
| Weight | 0.12 kg |
| Dimensions | 300 × 300 × 80 cm |
| Color | Red |
Related Products
Recomended Products
Related Products
Recomended Products